Zabbix server gives you bandwidth calculation via "net.if.in[eth0,bytes]" and "net.if.out[eth0,bytes]" functions. But sometime you might face some issue with this functions, e.g. sometime might be your actual bandwidth data mismatch with the Zabbix server shown data. So, for the mitigate this problem you can use this solution. If you face any issue regarding this please comment on these post.
Please find the related video for this.
Here I am using vnstat tool for the collecting of all bandwidth data from agent servers.
Dependency Package (Ubuntu, CentOS):
vnstat
bc
zip, unzip
dos2unix
This Tutorial gives you
Total Outbound for today
Total OutBound For Current Hour
Total Inbound for today
Total Inbound For Current Hour
Total Bandwidth For Previous Hour
Total Bandwidth For Current Hour
Total Bandwidth for Today
Total Bandwidth for last 7 days
Total Bandwidth for the current Month
Last 2 month bandwidth (current+previous)
In Agent server (Login to the agent server SSH)
First Install all package along with the dependencies.
# apt-get install vnstat bc unzip zip dos2unix -y
Setup the vnstat interface and create interface database for vnstat. Edit below code () with your server network interface.
# vnstat -u -i $interface
Now create a directory for Bandwidth calculation script and go to the directory.
# mkdir /etc/zabbix/script
# cd /etc/zabbix/script
Download the below link and unzip the file.
# wget https://www.try2answer.com/wp-content/uploads/2018/10/bandwidth.zip
# unzip bandwidth.zip
Give the executive permission to the all script files
# chmod +x *
Add below cron for automatic Bandwidth Update.

echo "*/5 * * * * sh /etc/zabbix/script/update.sh"
to removing all hidden windows characters from script files
# dos2unix *.sh
Add UserParameter to the zabbix agent conf file
# echo "UserParameter=system.monthlybandwidth,/etc/zabbix/script/zabbix_total_month_bandwidth.sh
UserParameter=system.todaybandwidth,/etc/zabbix/script/zabbix_todays_total_bandwidth.sh
UserParameter=system.todayinbound,/etc/zabbix/script/zabbix_todays_total_inbound.sh
UserParameter=system.todayoutbound,/etc/zabbix/script/zabbix_todays_total_outbound.sh
UserParameter=system.last7daybandwidth,/etc/zabbix/script/zabbix_last_7_days_total_bandwidth.sh
UserParameter=system.currenthour,/etc/zabbix/script/total_bandwidth_for_current_hour.sh
UserParameter=system.previoushour,/etc/zabbix/script/total_bandwidth_for_previous_hour.sh
UserParameter=system.last2month,/etc/zabbix/script/last_2_month_total_bandwidth.sh
UserParameter=system.currenthourin,/etc/zabbix/script/total_inbound_for_current_hour.sh
UserParameter=system.currenthourout,/etc/zabbix/script/total_outbound_for_current_hour.sh" >> /etc/zabbix/zabbix_agentd.conf
Restart the zabbix agent
For Ubuntu
# /etc/init.d/zabbix-agent restart
For CentOS
# systemctl restart zabbix-agent
Check once the zabbix agent server is running or not.
# netstat -tlnp | grep zabbix
You have done in the Zabbix agent Part, Now login to the zabbix server Dashboard.
In Zabbix Server (Login to the Zabbix server Dashboard)
Download the below Template and unzip
After unzip, Login to the zabbix Dashboard –> Configuration –> Templates –> Click on Import –> Select the xml template file –> Click on Import

After the template successfully add to the zabbix server, select the host server and attach the newly added template.
dashboard –> Configuration –> Hosts –> Select Host –> Template Tab –> Link New template –> Add –> Update.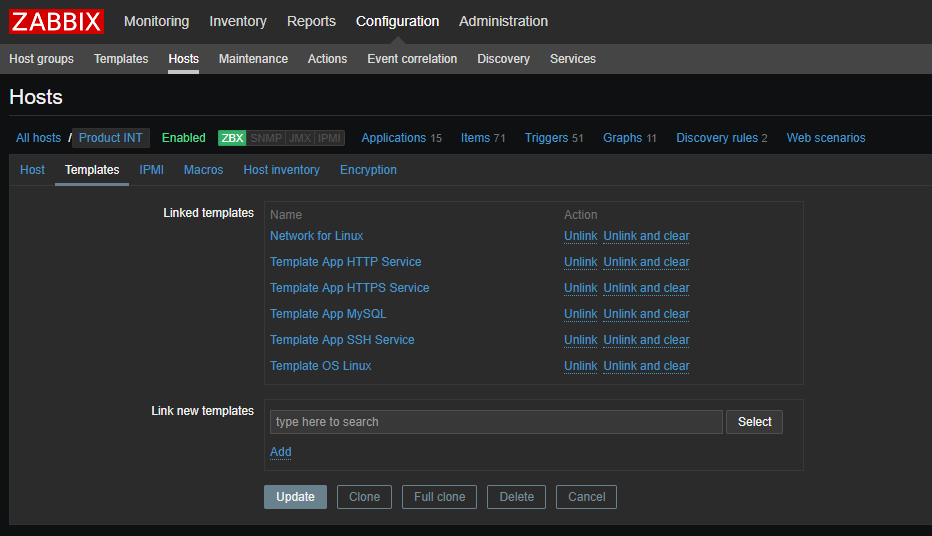 After Update the host, Wait some time we will get all Bandwidth Calculation report.
You are all Done!
Extra Data from This tutorials
By Default Below two items are disabled and you will not get below two data.
Total Outbound for today
Total Inbound for today
But If you want to see this data, you can enable it anytime from your zabbix dashboard.
Dashboard –> Configuration –> Templates –> Network for Linux –> Items –> Check 2 Item that are disabled –> Click on Enable.



If You face any issue regarding this please comment below:
Thank You